Yeah, it's based off of my Winds Whisper engine.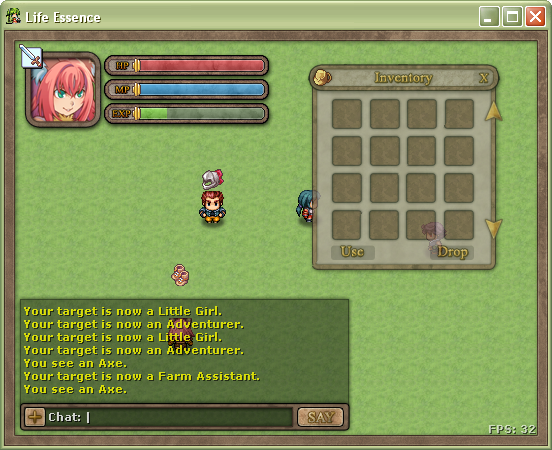 It now renders the chat, which is saved into an array.
Each line of text has a rect. The actual text in a string, the red value, the green value and the blue value, which is how I get the colour.
I also noticed that the grammar was messed up when a word started with a vowel, so I made an automatic grammar function. If the word starts with a vowel, it'll return 'an' instead of 'a'
I need to wait till my gfx artist gets on to add scrolly arrows to the chatbox, but you'll be able to scroll through the history up to a certain point afterwards.
Just finished sorting out the spritesheets (13 sheets with 8 sprites on each one) and the faces for the HUD.
Still need to code the Inventory in and then I'll be coding in Autotiles. Took me a few hours of pissing about in paint, pasting little bits of tiles to different parts to get the system completely sussed, but it should be sweet when I get it done :]